Today's National Sewing Month Project is brought to you by Jen Eskridge from ReannaLily Designs.
It is winter somewhere in the world and now we can celebrate with this Snowman Table Runner! This table runner is very fast to create and can be created with fabric scraps or purchased yardage. Have the kids help and give your winter a bit of personality with this little fellow. This project is so fast and easy, it also makes a great hostess gift for the holiday season.
Snowman Table Runner Sewing Tutorial
My Snowman Table Runner finished up at 11-1/2″ x 50″. Yours can be any long rectangular size.
Supplies
Assorted white fabric scraps
Black and Orange fabric scraps
3″ x 42″ (width of fabric) scarf fabric
Heat'n Bond Lite fusible adhesive
Construction
To create the white background for the snowman, you may opt to purchase 1/2 yard of white fabric. Going this route will have your snowman ready in record time. Your finished snowman will be around 17″ x 40″.
Create a background from fabric scraps:
Use your 1/4″ presser foot and/or Seamingly Accurate Seam Guide to join all your assorted white fabric scraps. Match the cut edges with the 1/4″ mark on the seam guide.
In my case, I had portions of quilter's fat quarters (18″ x 22″ pieces of cotton) left. I joined these large chunks to create a rectangle slightly wider than I'd like and slightly longer than I'd like.
Next, fold the long rectangle in half twice, to trim the edges.
Cut the large rectangle in to four wide strips. Anything from 3″ – 5″ will work.
Now here's the magic: We'd like to create an interesting "low volume" scrappy background, but we do not want to spend loads of time finding, trimming and joining loads of tiny pieces. This is a variation of my own Fractured Background Technique. Watch this:
Simply stagger two rows at a time and join them with a 1/4″ seam allowance. (These long seams are why we needed the runner wider than we originally planned.)
Press.
Join the pairs of off-set rows. (This is why we need the initial large rectangle shape longer than we originally planned.)
Return to the cutting mat and trim the two ends even with the shortest piece.
Create the Snowman Face
For this step, you'll need:
Prepare the fabric per the Heat'n Bond directions.
Thankfully, little chunks of coal are not perfect circles so you can easily cut out "round" shapes for the eyes and smile.
2 Rounds for the Eyes
5-7 Rounds for the Mouth
One rounded, elongated triangle cut from the orange fabric will complete the nose.
I think we can agree, the placement of these shapes will determine the character of your snowman. Play around with the placement: wide eyes, straight mouth, curved mouth, off-center, nose pointed up/down, etc.
Should you want a recognizable snowman like Olaf or Frosty, a quick google search will guide you to coloring pages which you can use as templates.
Once the face is decided, peel off the paper backing and fuse the fabric to the background.
The last step in this raw-edge applique method is to edge-stitch around each fabric shape.
Decide on a Scarf
Ironically, scarves keep you warm…. why would a snowman want to be warm? Who knows? Feel free to skip this step and move on to the next Finishing Step, or stay right here and give your snowman a bit more color.
When choosing my scarf fabric, I decided to not pull Christmas/Novelty fabric. I'd like to use this snowman in the January/February months, long after the holiday is over. I auditioned two pieces of fabric:
If your table runner is wider than my 11-3/4″ runner, you may need more scarf fabric. Also, if you'd like your scarf ends to dangle the entire length of the snowman (for instance, if you use this guy as a wall-hanging, rather than a runner), you may need more scarf fabric.
Cut 2 pieces of scarf fabric, 3″ x 22″
Position the scarf fabric below the snowman's face. (Because snowmen don't have necks, of course.)
Align the cut edge of the background fabric and scarf fabric.
Tip the scarf down slightly.
Baste the scarf edges to the background.
Tie a loose square knot to see how you like the look. I tied my know off-center a slight bit.
Finish the Snowman
Measure your table runner. Any long rectangle will be the perfect size.
Cut a backing fabric the same size as the runner top.
Quick note– If you plan on using this on your table, you may consider adding Insul-Bright
to the project, stitching it to the wrong side of the snowman table runner before applying the backing. This will make your runner heat proof for use as a hot-pad or trivet.
Pin the backing fabric to the snowman runner, matching right sides.
Use a 1/4″ seam allowance to sew around the rectangle, leaving a 6″ hole along one side.
Turn the runner right side out through the opening.
Carefully press around the entire runner, making sure none of the seams are "pulling in" along the edges.
Tuck the seam allowances into the opening and press.
You may opt to hand sew this close, or use a straight stitch to secure the opening as I have:
Using your Seamingly Accurate Seam Guide, align the pressed edge with the 1/2″ mark to sew a flange around the entire runner.
When sewing the flange edge, I pivoted at each corner rather than sewing off each side.
Last step: Secure the scarf knot through the fabric layers of the table runner.
Set your machine to a wide zigzag stitch on a zero stitch length to create a "bar tack" to hold the knot in place. This step is especially important if you will use this as a wall-hanging.
Adjust the knot fabric slightly to cover the bar tack stitch.
Volia! You have a fun Snowman Table Runner!
And now for the part you have been waiting for… the DAILY GIVEAWAY!  Today's prize is a package of Fairfield Soft&Toasty Batting and 2 quilting books.
To enter the daily giveaway, leave a comment below telling us:
What is your favorite sewing tool?
Official Rules for Daily Contest
There is a maximum of one entry per person. The entry will be based upon a comment left on this blog post. Duplicate comments will be deleted and are not tallied.
Winner will be selected at random from the comments on this blog post below.
You have until tonight, September 2nd, 2015 at 11:59p EST to leave your comment on this post. Comments posted after that will not be counted.
Contest open to anyone 18+ in US and/or Canada.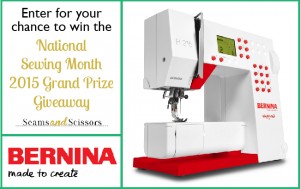 Enter daily for your chance to win the National Sewing Month 2015 Grand Prize Giveaway.
Latest posts by AllFreeSewing
(see all)