If you stepped outside today and felt the hint of cold coming into the air, you probably had the exact same mix of anticipation and sorrow that I did. I love the summer. I love the sun. I love the beach. I love it all. But you know what else I love? Sweater weather! When fall rolls around, I am absolutely giddy to learn that I can start layering again. Skinny jeans, boots, and a lovely sweater are my go-to fall favorites when it comes to my wardrobe. This is why I have scoured our archives to learn how to make a sweater that will be perfect for this fall. From DIY cardigan tutorials to how to make a sweater just like Katniss, these how to make a sweater tutorials are sure to bring some Pumpkin Spice Latte-flavored fall joy and warm duds into your wardrobe. Learn how to make a sweater that you'll love this chilly season with Sweater Weather: 9 How to Make a Sweater Tutorials.
If you're like me, the idea of knitting or crocheting boggles your mind. So much yarn! So much concentration! I prefer tutorials that show me how to make a sweater with my sewing skills instead to tangling myself up in yarn. Don't get me wrong, I would love to be able knit a lovely, thick and wooly sweater. I just don't have it in me. With this in mind, I've collected these sweater sewing projects on how to make a sweater for all the sewists out there that are ready to start sewing a comfy project.
Learn how to make a sweater you will love this season!
Sew up some J Crew level chic with this knock-off how to make a sweater tutorial.

Add some sass to an old cardigan with this crazy, clever tutorial on faux-embroidery.

This unique fit sweater is perfect with a pair of skinny jeans.

Learn how to make a sweater into a rockstar of a piece with these studs.

Get the Anthropologie look without the big price tag with this how to make a sweater tutorial.

Sweater dresses are the best dresses. Lounge around in this cute craft.

Make a statement with this super cute sweater. (You can use the words to cover up a stain, too!)

Comfy, cute, and easy? Yes, please.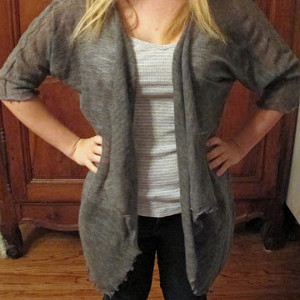 Okay, this is not a sweater exactly and it is a little old, but we're still totally obsessed with it.

What's your favorite fall piece to wear?
Latest posts by Seams and Scissors
(see all)