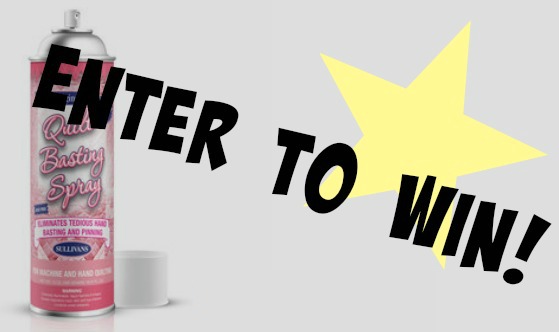 When you're quilting, the least fun part is when the sewing and organizing is all done and you're left with the parts of the quilt to put together. Because of this, FaveQuilts has decided to give you a little relief when it comes to finishing your own quilt. If you haven't tried The Original Quilt Basting Spray, then now is your chance to enter and be a winner!
What is it?
The Original Quilt Basting Spray from Sullivans USA binds batting to the top layer and lining of your quilt with a lot less effort and hassle than it takes to use pins. You can minimize the time it takes you to complete your quilt by using this spray instead of doing it all by hand! It's definitely a must-have if you are an avid quilter, so there is no reason you shouldn't try for your chance to win!
How do I get it?
Enter to win this Quilt Basting Spray from Sullivans USA by checking out our giveaway page on FaveQuilts. There, you will find all the information you need to enter as many times as you want (but only once daily) to have the chance to win! There are plenty of chances to enter, so you better get started and find out all the different ways you can win this great quilting product.
When do I need to enter?
Now! As long as you enter by November 13th at 11:59:59 pm Eastern Time, you will have the chance to win. It's go time!
What kind of quilt have you been dying to make?
Latest posts by FaveQuilts
(see all)