Skirts: love 'em or hate 'em, if you're a sewist chances are you'll end up sewing one at some point – whether for you, a friend, or a child who's just dying to be a princess for Halloween. Whether you wear skirts yourself or not, it's helpful to know a little about the different styles of skirts that are out there! For today's Tips and Tricks Tuesday, we're sharing a few of the major types of skirts with pictures so you can see the difference – then, once you've picked your favorite, work up one of the free, easy sewing patterns provided for each one!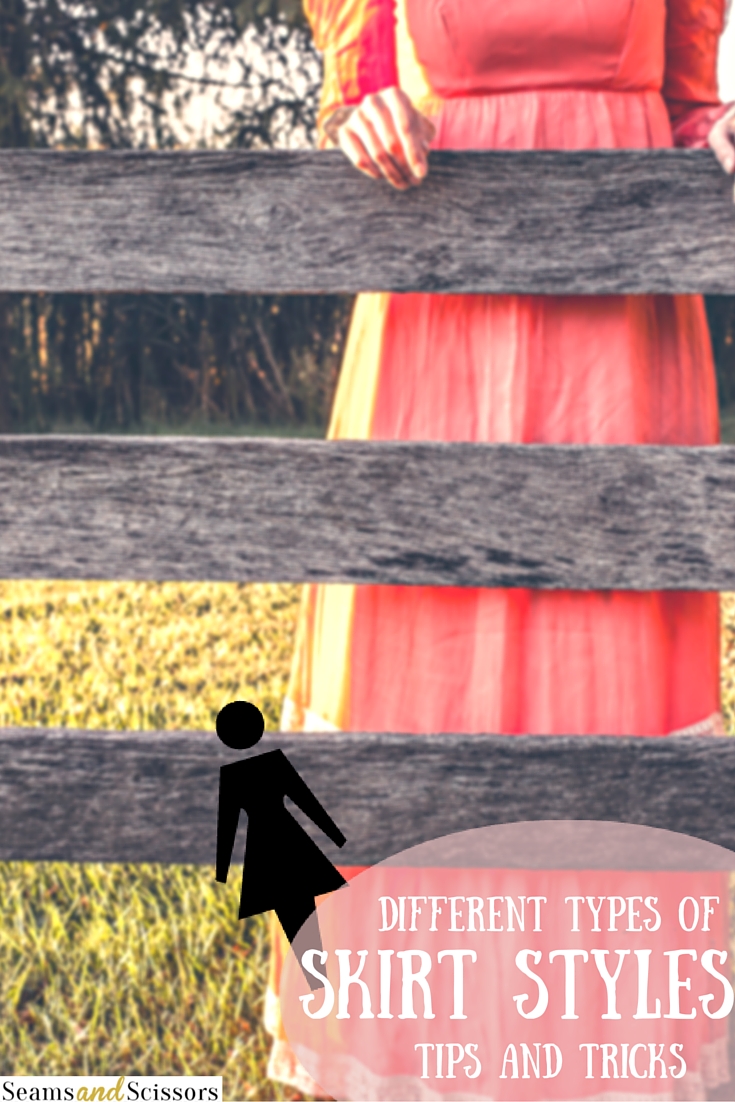 Tips and Tricks Tuesday: Different Types of Skirts
A-line

An a-line skirt is one that starts at the waist and gradually gets wider as it goes along, giving it the shape of the letter "A." This style of skirt is universally flattering and also super versatile! Check out these three varieties and see which one's your favorite:
The Perfect Peggy Skirt
Versatile A-Line Skirt
Sassy Secretary Upcycled Skirt
Circle

Circle skirts are probably the easiest to make. All you do is cut a circle of fabric and rely on the natural drape to give your skirt its shape! These basic pieces are so easy to dress up or down depending on the occasion. Here are a few of our favorites!
Fat Quarter Circle Skirt Pattern
How to Sew a Circular Skirt
Quick Skirt for Girls in Minutes
Pencil
Nothing says "business chic" like a pencil skirt. These skirts are fitted so as to give you a sleek and professional silhouette, and they're a must for formal occasions! These are the kind of wardrobe staple that every gal should own – make your own with these tutorials:
Unstoppable Pencil Skirt
Liz Taylor's Lace Skirt
The Marilyn Pencil Skirt
Wrap
Wrap skirts are another flattering style that can be done so many ways. They get their name from the fact that the fabric wraps around you to create the skirt, often giving a pretty, sophisticated effect!
How to Make a Wrap Skirt
Reversible Wrap Skirt
Fat Quarter Long Wrap Skirt
Ruffled

When you think ruffles, you might think of pink tutus and Barbie dolls. Actually, though, ruffled skirts are one style that look good no matter your age! They're not that hard to make, either – check out these tutorials and see for yourself!
Ruffled Skirt Made from Shirts
Anthropologie Ruffled Skirt Tutorial
The Charlotte Skirt
Pleated

Pleated skirts aren't just for school uniforms anymore. Check out these tutorials for upgraded pleats that are perfect for kids AND adults!
Cotton Candy Pleated Skirt Tutorial
Refashioned Pleated Skirt
Box Pleated Skirt
What style of skirt is your favorite?
Latest posts by Seams and Scissors
(see all)