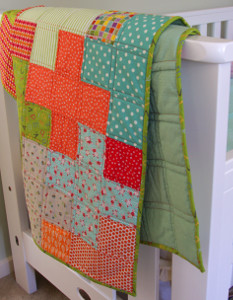 So there's a baby on the way, and you have no idea what to bring to the baby shower. Not only that, but you have no idea of the baby's sex. Your friend, sister, daughter, or daughter-in-law has decided to keep it a secret, which only makes it harder to think of a fantabulous baby gift.
Luckily, here at Seams and Scissors, we have some free baby quilt patterns for you to make at home. The best part? They're all unisex, so you won't have to spend hours at Babies R Us, wandering aimlessly up and down the aisles of mobiles, onesies, and breast pumps.
As a seamstress, a baby quilt is the easiest way to get into quilting. It's a small project, and if you mess up, it's not the end of the world. (I mean, it's not like the baby will notice…)
Something that's fun to do with baby quilts, too, is to add minky fabric to the back. But…what is minky, you ask? Minky is just a fancy way of saying that really soft fabric that makes you feel like you're snuggling up to a cloud. If you don't know what I mean, check out this article.
Oh. I forgot to mention the last, best part about DIY baby quilts. You save so much money. I know that your sister has a cagillion things on her bridal shower registry, but wouldn't it be better to make something from the heart? (Not to mention you won't have to make a down-payment on an expensive stroller…)
Check these free quilt patterns out, and let us know which ones you like the best in the comments. The Tetris Baby Quilt (pictured above) is my personal favorite. Just sayin'.
Best Ever Unisex Baby Quilts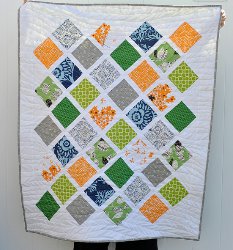 1. Tetris Baby Quilt
4. Color Pop Lattice Baby Quilt
5. Whimsical Charm Pack Baby Quilt
6. Externality Tied Scrap Quilt
PLUS! Don't miss out on this collection of quilt patterns from Leisure Arts! Enter today!
Christmas Sparkle: This book shows seven designs for holiday quilts, wall hangings and home décor items – and each one has that little something extra.
Patch Pals Collection: Here's a dozen baby quilts that are just cuter than animal crackers!
Simple Beginner Quilts: These 16 quilts and wall hangings are designed with basic piecing skills in mind!
Make Your First Quilt: This book has 16 beginner quilt patterns to suit any style!
Latest posts by FaveQuilts
(see all)