Its no secret I love to sew, I particularly love to sew with recycled fabrics. This is for two reasons. One cost – I live in the UK where fabric costs £14/meter equivalent to $12/ yard.  Secondly because its kinder to our worlds limited resources to reuse where we can.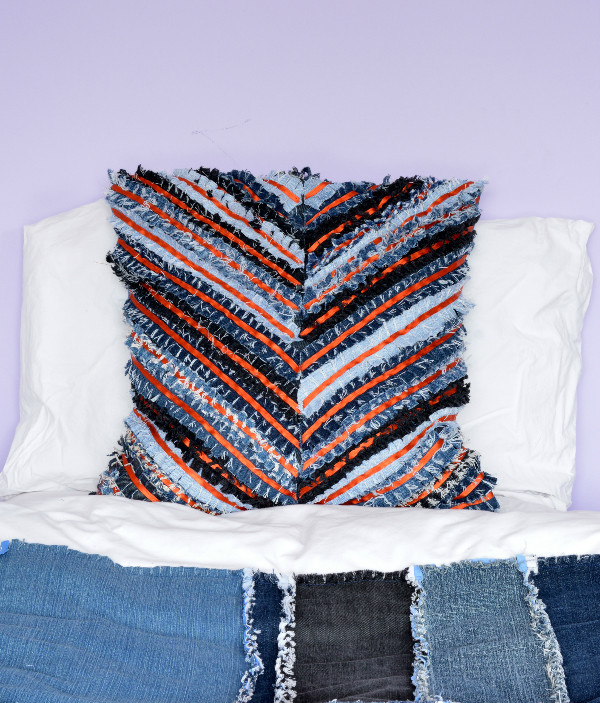 One of my go to fabrics is denim – its so versatile and strong. One of my all time favorite makes is a denim rag quilt (you can find the tutorial here). Today I am going to share with you a chevron denim rag cushion. It's perfect for using up scraps of denim from other projects.
To make you will need:
3 pair of old jeans or more
18″ navy zip
6 meters of thin orange ribbon
Start with the back of the cushion cover. Check your jeans, pick the pair with a wide and straight leg. Cut off the hem of the jeans and then cut the leg off at 18″. Cut down the seam with the most curve leaving a straight line. Next cut a further piece of denim 18″ long from the other leg.
Place together – check the two pieces will make a 18″ square. If not add another panel.
Turn and press an edge, place along the zip. Pin and stitch using a zipper foot. Repeat for the other side of the zip. Trim the back of your cushion to 19″ square.
For the front panel cut a 18″ square of denim. If necessary piece together pieces of denim.
Using a quilters ruler and tailors chalk mark down the center. Fold a square of paper diagonally in half. Place on your denim to use as a guide to mark the stitch line for your strips of denim. Mark several stitch lines both sides of the center.
Cut a number of strips of denim measuring 1 1/2″wide. Pin to the cushion with ribbon down the center of the strip. Stitch in place to secure.
Place your next strip parallel, with your ribbons being approximately 1″ apart. Stitch to secure. Continue until you have finished one side.
Repeat for the second side, ensuring you are aligning the ribbons at the center of the cushion.
Snip in the denim strips up to the ribbon. Snip 1/4″ apart down both sides of every strip.
Partly unzip the zip. Place right sides together of the cushion. Stitch with 1/2″ seam allowance.
Turn right side out – lastly wash your cushion to roughen up the edges. Tip – do not place in the washing machine with other items unless you wish to be pulling lots of threads of denim off your clothes (learn form my mistake!).
Fill with an 18″ cushion. Wasn't that easy? What color of ribbon would you choose?
For more great sewing tutorials check out my blog vickymyerscreations.
Latest posts by Vicky Myers
(see all)