Learning how to sew retro-inspired clothing has become an indisputably trendy practice. The classic cuts, colors, and patterns define our conception of the lifestyle of any given era. Whether it's the 1920s, 1940s, or 1950s, each decade's style has now joined the ranks of what we call "vintage." Today we're pulling together classic dresses that we think are stunningly sweet.
Whether you're searching for a look that echoes the good old afternoons in the soda shop or one that fits a swinging jazz club during prohibition, these free dress patterns are sure to please. Learn how to sew a dress that everyone will envy—just snag an easy dress pattern from our list below and you're good to go!
Great Gowns for the Girl-Next-Door
Alright, so these DIY dresses aren't necessarily "gowns," but they do rival looks you'd find sweeping down the red carpet. We love the simplicity of dresses like the Billie Jean dress from Bluegingerdoll. See if you can sew this gorgeous dress or any from the list below.
Dress Designs for the Duchess
Leaning more towards the "dressier" side, these tutorials teach you how to dress in the prim and polished style that used to be the standard for everyday wear (at least, for the upper-crust). See if designs like The Day Date Dress fit your fancy, or try the ones below.
Fearless Frocks for the Femme Fatale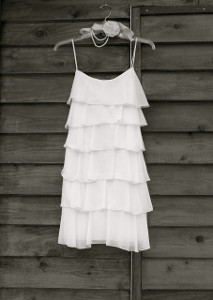 Nothing about these sewn dress patterns is kidding around. With designs that remain cutting edge after the lapse of nearly one hundred years, you'll find that dresses like The New Woman's Flapper Dress still never fail to impress.
If you're interested in learning how to sew more dresses for your classic style, check out our collection of frocks!
What's your favorite decade for fashion? Let us know below in the comments!
Latest posts by FaveQuilts
(see all)