The best thing about being an editor for a sewing website? All of the exciting free stuff we get in the mail. I don't want to brag but the newest, the cutest, and the best books, kits, fabrics, and everything else come in the mail and show up on my desk. For someone who just loves pretty things, this is a dream come true. It is like Christmas time and time again. I am sure my co-workers are irritated by this point by how excited a box can make me. This was exactly what happened when we got the Emma Tote Kit from Bonjour Teaspoon. An adorable bag kit? And I get to make it? And there's tea cups on it? Yes, please! I was so ready to try it out.
This bag was really easy to make. It took me a few hours, but I am also a perfectionist with the knowledge of a newbie. I am sure my fellow beginner sewists know this feeling. I want this to be perfect, but I literally have no idea what I am doing! This makes me a bit slower. I also failed to remember how to gather fabric correctly, which meant that I had to redo the pocket a number of times. I don't want to admit how many, but it was more than three.
Here's some pictures of the process!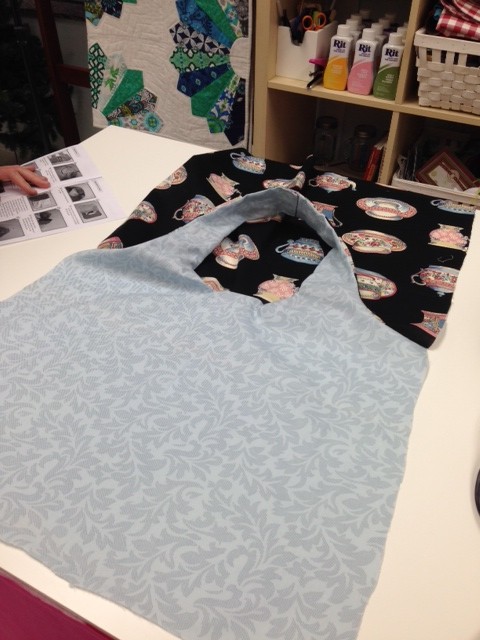 Yes! I did have a ton of fun and the result is the cutest. Thanks so much, Bonjour Teaspoon! We loved this bag and we are so excited to give it away on our site. That's right! If you are looking this bag and thinking "I want to make that mine", you can! Just head on over to AllFreeSewing.com and enter to win this fantastic bag. The deadline to enter is January 23rd, 2015 at 11:59:59 PM and you can enter once a day.
What is your favorite bag pattern you have ever sewn?
Latest posts by AllFreeSewing
(see all)