Skirts. One of the highest ranking sewing projects on not just Seams and Scissors and AllFreeSewing, but across the internet. How do we know? Experts. Trained and highly intelligent experts.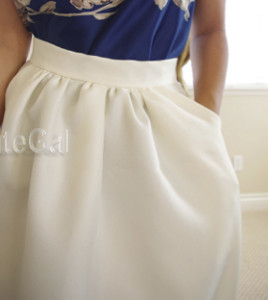 At Seams and Scissors we recognize that for a lady who loves to sew, indulging in making your own clothes is not only a creative endeavor, but an opportunity to make something fit and flattering and tailored exactly to your liking. Skirts fit the bill for someone who wants to make a piece that they can rotate throughout the month for business and casual ensembles.
We've written up a quiz to help you decide what your ideal skirt pattern style is so that when you choose your next design you'll know that the final result will satisfy your tastes.
We seriously love this quiz. Written in a collaborative frenzy and backed by research from the world's leading minds in skirt-making-ology, this fun quiz will at the very least direct you towards your pattern of preference.
One of our editors took this quiz (rather than finishing up some work) and found the results spot-on with her style tendencies. Here's her testimonial,
"I got 15 points," she ejaculated in between bites of her leftovers from yesterday's lunch, "to be honest I normally question the results of these types of quizzes, but after reading that my skirt pattern style is a pencil skirt, I have to agree with the results."
It's absolutely true. Editor Annie shared a photo revealing just a small sampling of the items in her closet. What do they reveal? Pencil skirts. Lots and lots of pencil skirts.
"And I'm only going to make more. Let's face it, one of the perks of working on a sewing website is the exposure to all the amazing designs from professional sewists and bloggers."
Editor Annie also reveled in the prospect of using her results as a valid excuse to sew skirts, "Oh, if anyone challenges my decision to purchase more fabric – I  may or may not have a hefty collection at home – I'll simply direct them to this quiz and explain that my decision is based off of scientific research. Totally a reason to hit up my local haunt."
We asked Annie how many skirts she actually has in her closet besides the ones she showed us, to which she curtly replied, "That's none of your business. I don't want to talk about this anymore," before taking an early lunch to head to the fabric store.
So what kind of skirt should you sew? Will it be a pencil skirt like Editor Annie? A bubble skirt? Maybe a classic A-Line or a wild maxi? There's only one way to find out. Take our quiz, What's Your Sewn Skirt Pattern Style? to determine your next endeavor. It's not only fun it takes no time at all; less than 5 minutes! Share your results on our page and then go forth and sew for yourself!
What were your results from taking this quiz?
Latest posts by AllFreeSewing
(see all)