Today we're back with the second part of Melanie Rudy's Wildflower Quilt tutorial! Melanie blogs over at Quilters… Enjoy Color, and last week we featured her pattern for the Wildflower Quilt Block. This week she'll show you how she put it together and finished it up! Here's Melanie's quilt pattern, originally featured over at her blog.
This week I brought out the Wildflower Block that I designed a year ago and have worked it into a modern quilt top.
I pulled the soft neutrals, pinks, and greens out of my scrap basket and have incorporated them into a new and improvised setting.
Make 3  Wildflower Blocks. (As seen in part 1 of this tutorial!)
Add scrap strips to the sides of the Wildflower Blocks. Press as you go. Use any random width of strip. Trim to 18″ square. Next step…the cat tells you that it's going to be a fabulous quilt!
Using this Crazy Quilting method, make "Log Cabin" Style blocks with your neutral colors. Using a touch of pink for some of the block centres creates continuity in my finished quilt. Make 36 blocks.
Trim the blocks to 9 1/4″ square. The Wildflower Block in the diagonal setting measures 18″ x 18″. Pairs of the Log Cabin blocks sewn together measure 18″ x 9 1/4″. 4 of the Log Cabin blocks sewn together measures 18″ x 18″.
Layout the individual blocks into your desired setting.  Start piecing them together into sections.
It worked well to sew pairs and 4 blocks together to start. Build up to larger sections. Sew your final seams. The finished quilt top measures approx. 53″ x 71″.
These photos contains details of the Free Motion Quilting  that  I did throughout this quilt top.  In this project I focused on one design that I call the "Lollipop" as it compliments the floral theme of the Wildflower Block. For this project I used a  Pieced Batting.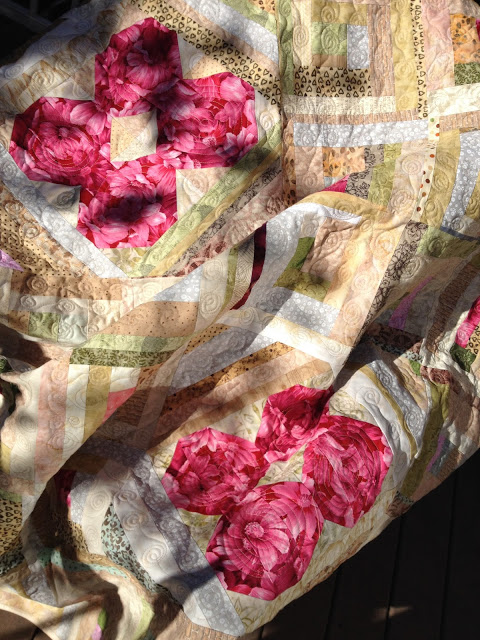 Here is an edge detail with a binding join that I have developed called My 3 Pin Binding Method. This method creates a perfect and accurate join everytime!
I hope you enjoy these techniques and are having a wonderful autumn season.
Thanks again to Melanie for sharing her wonderful quilt pattern with us! I hope you love it as much as we do!
What quilting project are you working on right now?
Latest posts by FaveQuilts
(see all)