This guest post by Sempstress Rochelle Freeman tells the tale of a hat her husband loved, and the journey to replicate it. Read Part 1 here.
In the last episode, I had hubby choose his best fitting flat cap from his collection. That cap happens to be a vintage wool cap from Edinburgh, Scotland.  When making a pattern from a ready to wear item, we have two choices:
Take apart the cap and use the pieces to make a pattern

Keep the item intact and smoosh it around until you've copied all the seams and make a pattern from that.
Each has benefits and drawbacks.  On this particular cap, if it were completely taken apart it would be much easier to create a pattern. But that would destroy the cap.  In short, the fabric has the texture of a hand woven wool, with the threads woven with a loose weave.
Thus would not stand up to unstitching and restitching. Of course, since this is hubby's favorite cap, that is not an option. In the light of that fact, please join me in the more difficult option #2.
For a limited time only
Generally speaking, to start we need to mark each seam on the cap. Since the cap will continue to live, the marks need to be temporary.  Remember, you are with me, win, lose or draw through all the trials and tribulations.  First, we'll try my favorite chalk pencil.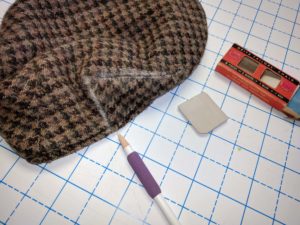 Nope, it's too light. Second we'll try the by gone era chalk of yesteryear.  Still too light.
Different brand? Nope, still too light.
Last chance let's try the gold old fashioned chalkboard chalk. The cheap stuff from the children's school supply department? Yep! That works great!
As shown below, let's mark each seam with clear marks, inside and out.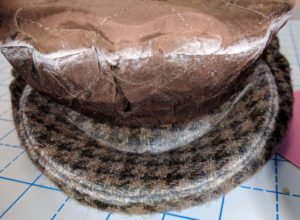 Now that the cap is clearly marked, good job by the way, the decision is: What is the most advantageous way to create a pattern?  As it be, the liner is a much better choice. The outer fabric is sewn down at the bill of the cap. Yet the liner is free floating, like a vacationer on a lounge chair in the pool with a tropical drink and one of those cute little umbrellas… well not really, but I can't wait for summer!
Such a ham!
Anyway, we'll turn the cap wrong side out and use a form to give the cap shape and stability whilst working it. Now, where is that Styrofoam wig head? Can't find it? How about we use that handy dandy ironing ham? Hey now, are you saying hubby is a ham?  Hey there, be nice!
The ironing ham is firm, can be easily pinned if necessary and actually quite stable.  Excellent! You and I have made a great choice!
Transversely, if we didn't have a ham (no not the hubby, the ironing one!) handy, we could use a ball (although be careful when using pins, or POP!). Even just a piece of clothing folded and stuffed into the cap for resistance.
Stay tuned for Part three, when we continue the pattern drafting from a ready to wear cap! Let the games (well sewing tutorial as it may be) endure!
God Bless and keep that machine oiled!
Rochelle
P.S. Part 3 sneak peek:
Latest posts by Rochelle Freeman
(see all)