Merry Christmas, sewists! Take a deep breath – the gifting is over. There are no more presents to make, wrap, and mail. You can take some time and let your smokin' sewing machines cool down today!
Since we can now think about things that aren't the holidays, today I'm bringing you a report of the winter trends I've been seeing around lately. I've also included some free sewing patterns so you can nab some winter style for yourself! Whether it's your New Year's resolution to learn how to sew or you just need some easy sewing patterns to unwind with after the crazy holiday season, you'll love how simple it is to incorporate these trends into your wardrobe.
Winter 2016: Trend Report
Faux Fur
Faux fur has been turning up all over, and with good reason – it's quintessentially winter chic, and the "faux" ensures that no animals are harmed in the making of your style. Sewing faux fur can be tricky at first, so check out this useful tutorial and then get started on these free sewing patterns!
Long Blazers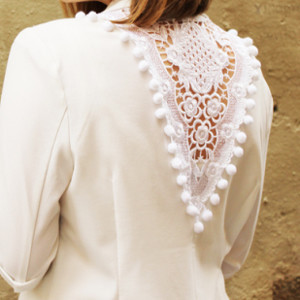 Blazers are big this time of year, and I've been seeing a lot of the longer variety – it created a slimming silhouette that's flattering for any body type. Check out these blazer sewing patterns and see what length works best for your shape!
Knits
It's no surprise that chunky knits have been appearing, well, everywhere – who doesn't want to cozy up in a comfy sweater this time of year? Upcycle last year's sweaters and turn them into these trendy patterns!
Fringe
The 70s have been coming back in a big way, and one of those ways has been fringe. You don't have to go full-on cowgirl to make this trend work for you, though – check out these adorable fringe-y accessories that you can sew in a snap!
Florals
Maybe a little surprising, but florals have been cropping up an awful lot considering the flowers outside have been gone for months now. Bring a little spring to your wardrobe with these floral sewing patterns – guaranteed to brighten up your winter.
What are your favorite trends this winter?
Latest posts by Seams and Scissors
(see all)