Have a hard time getting out of bed in the winter? I know I do. It's just too tough to leave the warm blankets when it's cold and grey outside, especially since I'm usually up before the sun is out! Sometimes all you want to do is just stay in bed and relax. I'm here to tell you that it's okay to sleep in every now and again, especially if your bed is rocking a quilt as "ohm"-my-gosh gorgeous as these zen quilt patterns!
These 14 geometric quilt patterns are calming to look at and are super unique—think "mandala," but better. These free quilt patterns are just the thing to bring a little calm to your crazy life. You'll feel the stress ebb away as you work on one, and you'll love the way the finished product looks on your bed! The fact that they make your space that much more cozy is just an added bonus. Pick your favorite and get started on your new favorite quilting project!
Plus, don't miss our reader favorite collection of 33 Star Quilt Patterns!

Namast'ay in Bed: 14 Zen Quilt Patterns
Jumping Jacks
Quilt – Pair this quilt with some swirly free motion designs, and you've got a recipe for relaxation.
Super Scrappy Single Irish Chain – This free quilt pattern is mesmerizing to look at—and colorful, too.
Rainbow Chevron Quilt Pattern – Chevron is always on trend, and this rainbow quilt is sure to brighten your day.
Chevron Waves Wedding Quilt – This gorgeous quilt would make an amazing gift for a new couple.
Marie Antoinette Triangle Quilt – These lovely triangles fit together to make a very satisfying pattern.
Dreamy Lattice Quilt Pattern – This pretty quilt is just the thing to guarantee sweet dreams.
Around the World Bed Quilt – Strip piecing takes the stress out of making this beautiful quilt pattern!
Monochromatic Brown Quilt – You might not think of brown as a relaxing color, but the way these shades work together is totally zen.
Kissing Stars Quilt – Choose a calming color palette to guarantee that this quilt will be easy on the eyes.
Weed Whacker Bed Quilt – A truly eye-catching quilt, you'll find it's hard to stop staring once you start!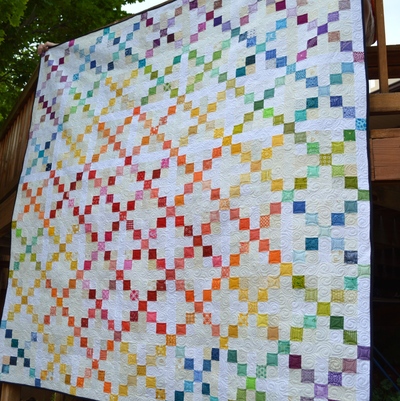 Dizzy Lizzy Rail Fence Quilt – This quilt gives off a truly hypnotic vibe!
Hidden Stars Quilt – This contemporary quilt is seriously stunning to look at—take a peek.
Colorful Churn Dash Quilt – Although it might be challenging to put together, you'll love the look of the finished quilt.
Vintage Dreams Bed Quilt – You'll be sleeping peacefully with this dreamy bed quilt!
What do you do to relax? Let us know below in the comments!
Latest posts by Seams and Scissors
(see all)